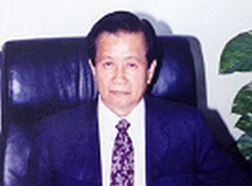 In 1962, Mr. Wan Chang San established Wan Shou Aluminum Co., Ltd., which is the first aluminum extrusion factory in the private sector of Taiwan. With state-of-the-art aluminum alloy metallurgy, precision extrusion, and heat treatment technologies, the company focused on manufacturing aluminum alloy badminton and tennis rackets frame. A record of 95% of worldwide production was made in 1989, and Taiwan was known as the kingdom of aluminum rackets frame during that time.
The auto industry in Taiwan was prospering in the 80s. With the belief of vertical integration in the industry effective exploration of the know-how in processing aluminum alloy, Man Zai Industrial Co. Ltd., founded in 1984, engaged itself in exclusively manufacturing condensers and evaporators for automobiles. Successful penetration into automakers' supply chain was accomplished in the beginning of 1990, with products successively supplying to condenser, evaporator and heater core product lines of major automakers including Ford, Mazda, Mitsubishi, Suzuki, and etc.
In addition to supplying genuine parts, deployments were made for taking over After Markets (AM). In 1992, Man Zai was successfully penetration the OES market of North America, being the OES supplier of Modine and Valeo. Furthermore, we entered the collision repair market of North America in 1998, through a strategic alliance, and set foot into the EU AM market in 1999, we becoming a mainstream supplier of the marketplace.
Man Zai believes in its founder's business philosophy - Innovation, Agility, Quality, Pragmatism. We would like to foundation in Taiwan for sustained business and also focus our eyes on the world.