Quality is the essence of business survival; the continued quality improvement is the only means to outrun the competitors, gaining the leading advantages as well as consolidating a sustained business operation. As the trend of quality system evolves, Man Zai has managed to attain certifications of respective quality systems and fostered relevant professionals, as the foundation for future developments of the enterprise.

However, attaining quality certification is only a start; the key shall be the intrinsic nature of the system. In addition to pursuing "attainment", Man Zai is also after "competitiveness". Using TS16949 as the basis, Man Zai carries out continued monitoring and improvements against respective processes, thus establishing an overall quality operation system of quality operations that begins from customer requirements and arrives at customer satisfactions.

Process of Overall Quality Operation System: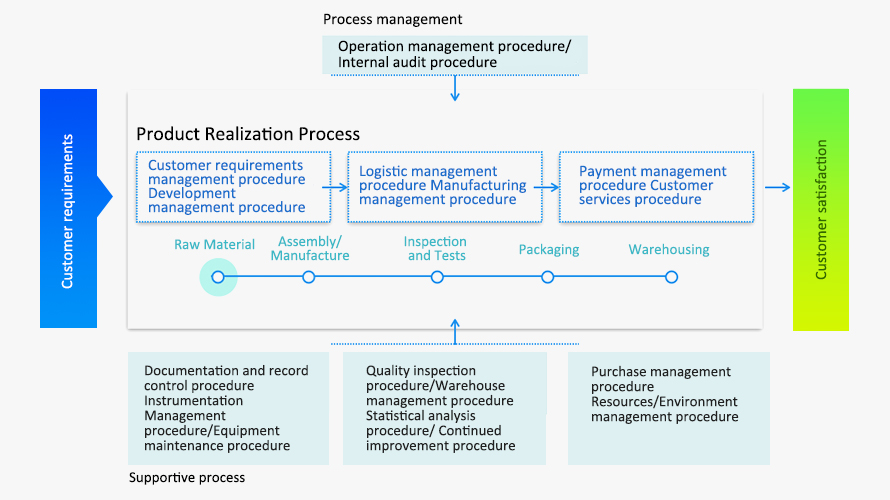 The operation of Quality Assurance System in Man Zai focuses on close match up of QA/QE and QC in the overall production activities. By way of mutual combination of system processes, instrumentation, laboratory facilities and process test facilities, strict QC, tests and validation are carried out against respective quality items. Customer benefits are ensured by the quality system and standardized processes, for delivering products of steady quality to customer satisfaction.

In order to achieve QA operations required by Man Zai, we structured customized design validation and quality process for addressing customer requirements based on TS16949. Due to the possessing of performance validation and quality validation instruments which are exclusive in Taiwan, Man Zai is capable of providing rational QA procedures in an integrated form for addressing customers with different development requirements.

Design Validation and QC Procedure built on the TS16949 philosophy